Cash For Old Cars Same Day
Have an old car that is doing nothing but collecting dust and rust? Or one that is a classic that you are ready to sell?  Or, one that you never got around to repairing?  Maybe one in scrap condition that isn't worth the time, effort or cost of repair?  Give Active Car Removal a call as "we pay cash for old cars". Our team is popular for offering our customers up to $9999.  We are fully licensed, bonded and insured. Don't hesitate to give us a call!
Call us at 0478 658 800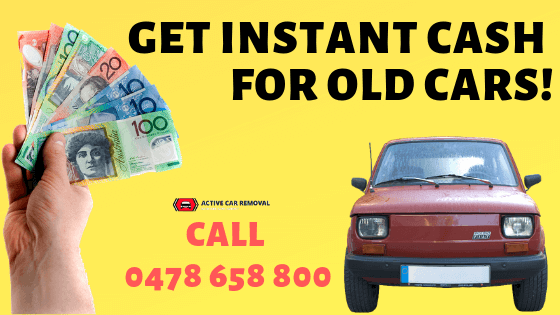 How to Get Cash for Old Cars in Sydney?
Old cars don't have to be a hassle to sell, at least not with us!  Active Car Removals is an old car buying company that will help you get some instant cash in your pockets!  We buy cars of every make and model, year and condition. When you sell your vehicle to us, you don't have to do anything but clear your personal belongings out from the interiors of the car.  We will take care of the recycling or reconditioning of the vehicle so that we get the most value from the vehicle and pass that value onto you. We pay cash payouts on vehicles before we remove the vehicle from the premises – whichever location you've asked us to come to.
Selling Old Car For Cash
Selling your old car has never been easier! With just 3 simple and easy steps, the process offered by Active car removal in Sydney will give you the desired amount of cash needed. The bonus is that your old car will be gone, and you will have enough money on your hands to replace it! You can get cash for cars up to $9999. Follow the steps below to get the accurate result:
Get a free quote by calling us on 0478 658 800. You can also submit an online enquiry for the same! We pay cash and get your car removed on the same day! You give us a call today, and we get your pick-up done today!
We make the payment of your choice by cash, cheque or bank transfer all done with the necessary paperwork.
Getting rid of your old car can often be a hassle, spending time and spending on an advertisement online but we have a solution for you. You will trust us at first sight as our removal team is professional and experienced that will make the towing safe and easy.
When you sell your vehicle to us, you are:
Guaranteed of a top dollar sale
Not required to make any repairs
Guaranteed the reception of courteous and swift services
Guaranteed a free old car removal in any suburb in Sydney
Paid instantly, as soon as the vehicle is picked up
We ensure you that we are the fastest and undoubtedly the fairest way to sell your old car in Sydney.
QUICK OLD CAR REMOVAL
Active Car Removal is proudly offering a hassle-free and reliable old car removal service in all Sydney suburbs and offering up to $9999 instant cash for cars. Our Old car removal is fast as we have many depots across Sydney and can remove your car at your convenience. Our service has been successful in removing Sydney resident's unwanted vehicle from their property, business, backyard, driveway and paying top dollar regardless of the condition, age make, and model. We also remove old trucks, vans, utes, 4WDs, SUVs and more. Depending on the make – model of the car, we offer money to the customers and guarantee the highest amount of cash for your old car.
We Can Remove All Kinds of Old Vehicles including the ones mentioned below:
Toyota
Peugeot
Lexus
Ford
Mitsubishi
BMW
Mercedes Benz
Holden
Renault
Nissan
Honda
Volkswagen
and much more regardless of its make or model and condition.
Get an Offer on Your Old Car Today
Not only does our cash for cars team offer a fair price, but they also do it with utmost grace and sense of customer service. Our team is efficient and extremely friendly! We offer you the price that you want to get! We are the car removal company that will buy your:
Old Ford, Old Toyota, Old Nissan, Old Suzuki, Old Subaru, Old Isuzu, Old Peugeot, Old Audi, Old Proton, Old Kia, Old Honda, Old Skoda, Old Hyundai, Old Honda, Old Alfa Romeo, Old Mercedes Benz, Old BMW, Old Mitsubishi, Old Mazda, Old Lexus, Old Jaguar, Old Aston Martin
If you're still doubtful, why don't you just give us a quick call and have a small chat with one of our team members about any old vehicles that you want to sell? Give us a call now! We're open all seven days of the week between 7am to 5pm.
Call us at 0478 658 800 to know more about us. You can also complete our "Get a Quote" form located on this page to get in touch with us and get a quote from us for free!