Get Cash for Your Unwanted Car in Sydney
At Active Car Removals, you can easily get up to $9999 Cash for your unwanted car regardless of your location in Sydney.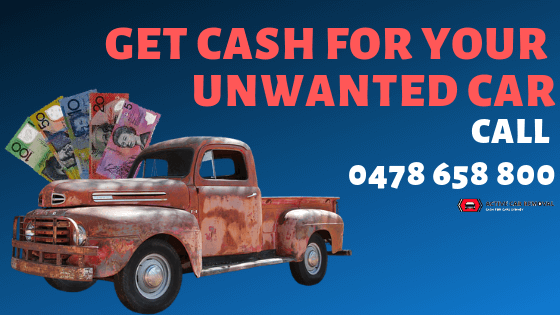 How to get Cash for Unwanted Cars in Sydney
We will remove any unwanted car and pay instant cash to the customers during the pickup. We are one of the most sought-after cars buying services in Sydney. If you're looking for a professional car buyer service for unwanted cars in Sydney, you are in the right spot!
We will give you the best cash offers for your unwanted cars, and we will do it right away. Don't believe it? Give us a call and find out for yourself! Call us NOW on 0478 658 800
Our services have been playing an active role in the car recycling process for efficient use of any unwanted car. As the number of vehicles on Aussie roads are constantly on the rise, the number of unwanted vehicles are increasing with equal rapidity. It is extremely easy to spot these unwanted vehicles, as they are sometimes abandoned on the streets or in public places.
Besides that, the number of accidents occurring on our congested roads adds to the already existing collection of unwanted vehicles in the community.
Sell My Unwanted Car For Cash
When selling your unwanted car to Active Car Removal you are guaranteed top cash for cars teamed with a FREE car removal service from any Sydney region. Cash is paid for unwanted cars, truck, Ute, 4wd and more regardless of the condition of the car or the current location of the same. We can buy your unwanted car from your premises, office, towing yard or wherever it can be accessed. Still not sure about the service? Call us and get a free quote for your unwanted car TODAY! Call us on 0478 658 800.
We can assure you the best cash price offers for your
Unwanted Truck
Unwanted Cars
Unwanted 4WD
Unwanted SUV
and much more.
What You Should Know Before Selling Your Unwanted Car
Selling your unwanted car for cash is not as inconvenient as it seems! There are a few things that you should keep in mind regardless.
Prior to the removal of your vehicle from your home or office, it is important for you to go over its contents and quickly remove anything valuable left inside.Few measures would include checking its glove compartment, under the floor, its seats, or in the trunk to find something valuable that you might need. Usually, people find different types of lost items, such as CDs and money.
If your vehicle is registered, you should also contact the insurance company in order to cancel your policy. If you're not the owner of the car, you must arrange a title signed by its original owner. If an old car or any other vehicle has been unintentionally abandoned at your property, you can contact the police or your local council to obtain the necessary documents.
Usually, you will have to sign off the removal depending on how long that old, rusted vehicle has been on your property.
Free Pickup on the Same Day
We always strive to offer our customers the best price in cash for their cars. There are no hidden fees, no towing or admin fees, no extra costs at any cost! We just want to pay you the highest price for your old car or truck without any hassle.
Our primary agenda is to deliver our services on the same day as we understand how urgent it might be for the car seller to get rid of their unwanted car. When you choose our 'cash for unwanted cars' service, you won't have to pay any towing fee either.
We are well-equipped to remove all types of vehicles in all Sydney suburbs for free. Since this towing service is complimentary, it won't affect the original initial quote offered by our customer service executives for your unwanted vehicle.
We always offer the cash that we quote to you initially. You can rely on Active Car Removals to get you the service that you deserve and offer the exact amount that was quoted earlier. You should be present there during pick up along with the proof of ownership (state ID or driver's license).
The only exception is when you have the title in your name; you will then have to sign the title and assign a person to do the transaction on your behalf with a signed permission note and a copy of your ID.
Get Free Quote
Now you're only one step away from getting a handful of cash and getting rid of your unwanted vehicle at the same time! Just fill the form on the top right corner of this page or call us on 0478 658 800 today.