PPSR is the Australian Government's initiative towards protecting the interests of anyone who wants to buy or even sell a used car. It provides information to the person who conducts the search about the registration of the vehicle, its color, type, make and model. It also provides the information on whether its a stolen car or has been written off.
It is essential to understand the importance of conducting a PPSR check when buying a used car. In order to get a fair deal while buying or selling an old car, the customer often looks for reliable information regarding the car. A PPSR check helps to a certain extent by giving the objective details of the car.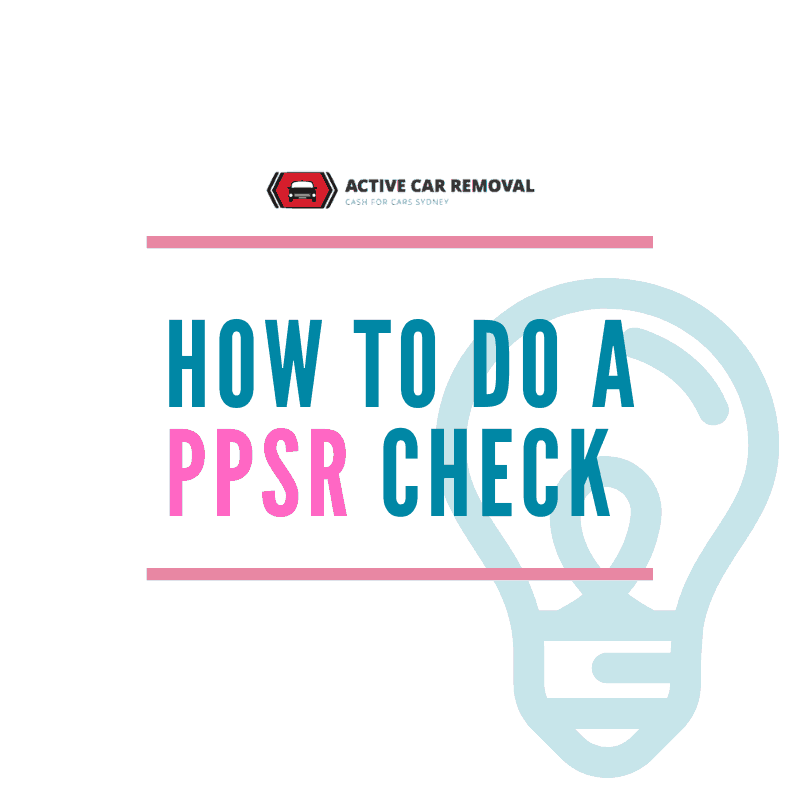 You can do a PPSR check by calling them on their National Service Centre, or by simply going online.
Read on to know how to do a PPSR check online on your own:
Step 1: Ingredients
Have a device that connects to the internet like a computer, a laptop, a tablet or a phone. Any device that connects to a phone is a good option. You will also need an internet connection that connects to your device. You can either use Wi-fi or your mobile data.
Lastly, you will need a credit/debit card to make the payment of 2.00 AUD for the transaction before you have performed the check. Make sure you have all the details for the card that you are using.
Step 2: In it to VIN it!
No, we didn't spell it wrong. You need the VIN, i.e., Vehicle Identification Number of the vehicle that you need the details of. This is the unique number of your vehicle and no other vehicle in operation can have the exact same VIN as yours. Your registration papers will have your VIN and so will your car. The windshield on the passenger's side is an easy way to find the Vehicle Identification Number. You can also find it on the compliance plate in the engine bay. You can either click a picture of it or note it down on a piece of paper. Make sure that the number is accurate as any discrepancies in the VIN will give you information of the wrong vehicle.
Step 3: Go Green!
Fortunately doing a PPSR check will not require you to recycle to save the environment. When we say go green, we mean go online!
Ensure you have a web browser open on your device with an internet connection. You can use Google Chrome, Internet Explorer, Firefox, etc.
Type in the web address: https://transact.ppsr.gov.au/ppsr/QuickVINSearch?si=2
On the next web page, click on 'Continue' at the end of the paragraph. You will then see a similar screen where you will be asked for your VIN and an email address where you would want to send the report for your car: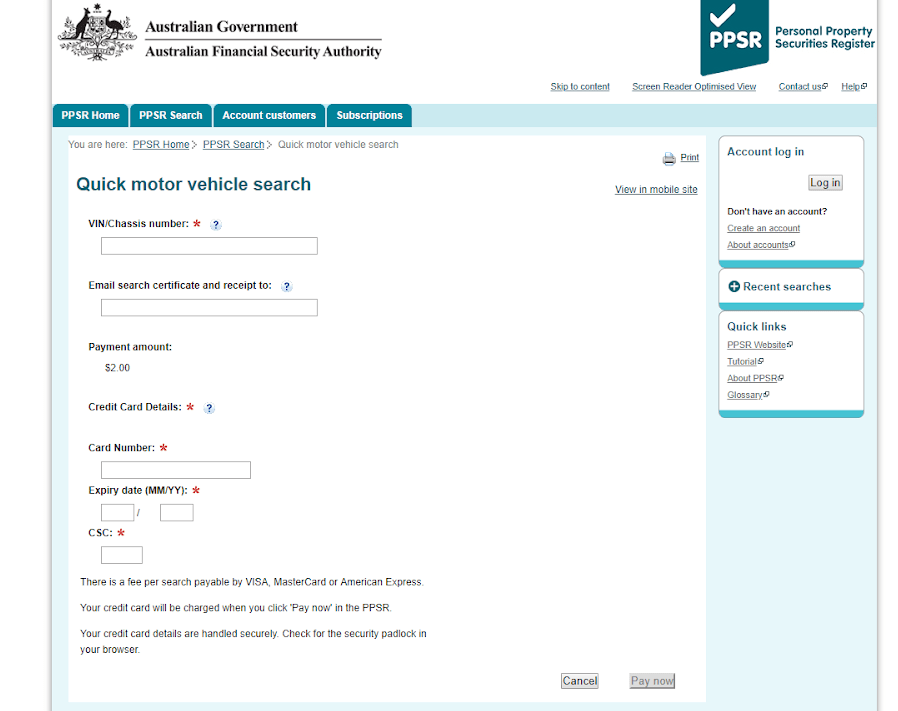 Please enter the VIN and the email address that belongs to you. You can create an e-mail address if you don't have on already.
The next thing is to carefully enter your card details in the section below.
After you've successfully entered your details, click on 'Pay Now' to proceed with your transaction. You will then be able to see a copy of your report on your screen. They will also send a copy to the email address you have provided.
The details of the car are accurate and the most trustworthy source of information on new and old cars. If you're trying to sell a car by giving out the wrong information, you might get caught.
Checkout an alternative to selling your unwanted car without any hassle.